Biweekly Update #10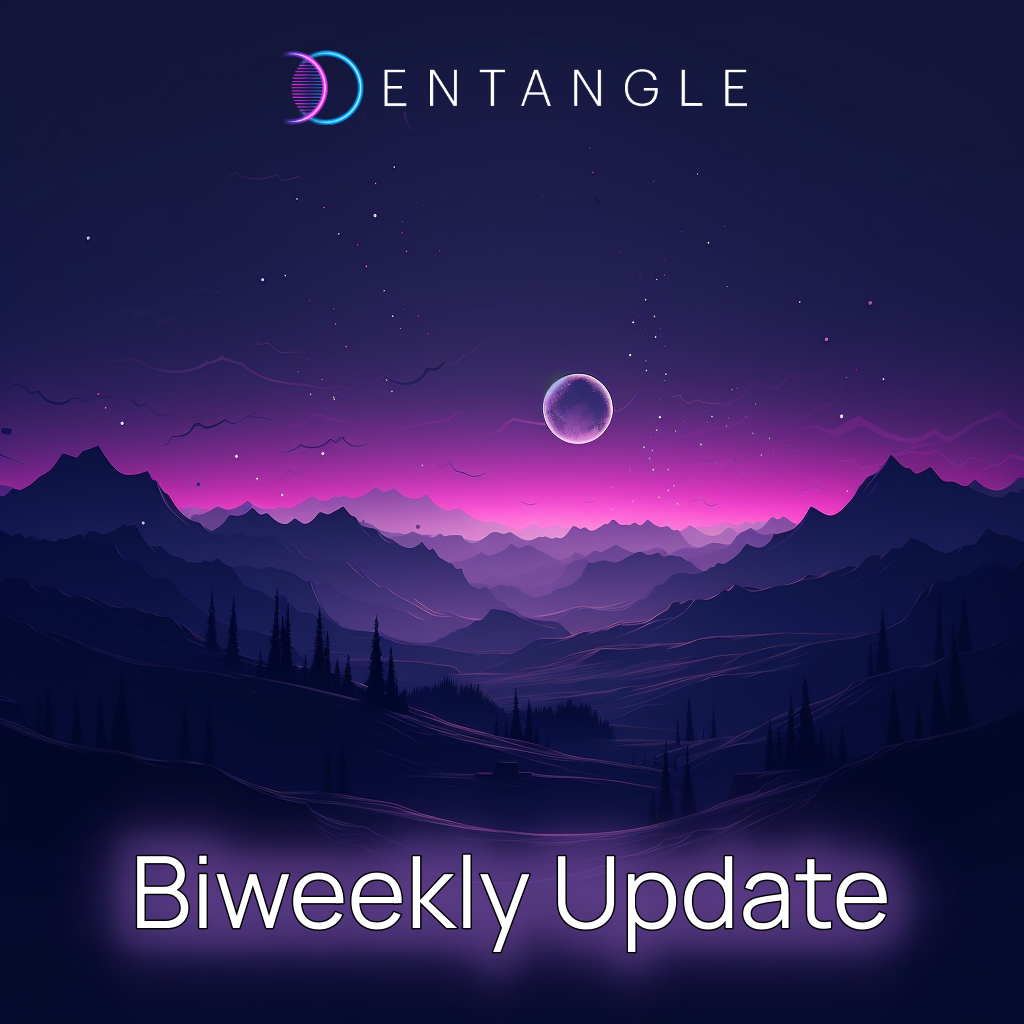 These updates feel like they're becoming more and more frequent
Here's the most recent updates at Entangle 👇
Development 👷

Frontend
Small testnet UI/UX updates
Frontend almost ready for deployment of "Distributors" - end protocols utilizing the Entangle Oracle Solution
Oracle Solution (General)
Comprehensive update of smart contracts as well as codebases of Keepers & Executors - to be redeployed next week for final tests, speeding up the Entangle Oracle Solution significantly
Ongoing work on integrating MultiVersX
Price Feeds:
Multiple sources have been integrated this week, in addition to continuous work on price algorithm smart contracts:
Avax (TraderJoe)
Optimism (Velo)
Polygon (QuickSwap, Stargate)
BSC (Wombat)
Mantle (FusionX).
Liquid Vaults:
Majority of work done to Integrate Ashswap on MultiVersX Blockchain
Blockchain:
All Validator slots are TAKEN and we have 100 Validators live amongst the community!
Blockchain stats:
Number of transactions: 350000+
Number of blocks: 5727000
Block lag time: 1.29 sec
Marketing 📊
Entangle attends Phillippine Blockchain Week: https://x.com/Entanglefi/status/1704870882597061081?s=20
80+ Validators live, but why do we have them?: https://x.com/Entanglefi/status/1706303080222929266?s=20
93 Validators live: https://x.com/Entanglefi/status/1706336612232384744?s=20
Twitter spaces with Lendle and friends: https://x.com/lendlexyz/status/1706620978187345944?s=20
Bridging the gap between traditional finance and Web3: https://x.com/Entanglefi/status/1706696168162648385?s=20
Curve Testnet integration: https://x.com/Entanglefi/status/1707418722313584949?s=20
How we're solving the big issues: https://x.com/Entanglefi/status/1707757108320518649?s=20
100 Validators Live: https://x.com/Entanglefi/status/1708398827294822907?s=20
Community 🫂
It's to begin a new season of Entangle Elite.
With Season 6 we've closely listened to your feedback, some new changes include:
Monthly competitions
Testnet usage
Discord Wars
Every passing season will come with new challenges and tasks for our awesome community to complete.
Season 6 will be a last of its kind as the next season will be full of new surprises.
You may be wondering what's "Discord Wars", well soon you'll find out.
Moving forward we'll be holding weekly community AMAs to share all of our latest updates and get important feedback from our community on how they'd like to see Entangle evolve in the future.
See you in the Discord!