Entangle Bi Weekly Update #1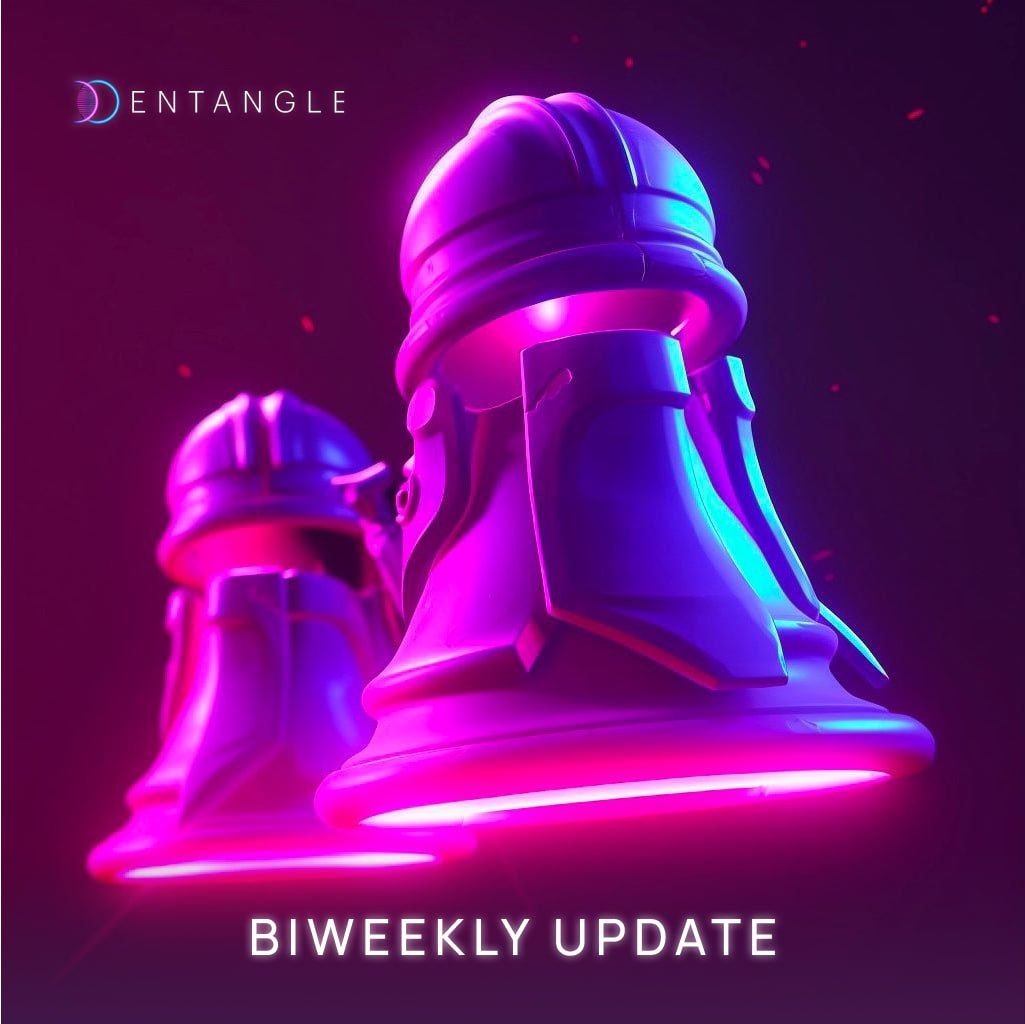 Welcome to Entangle's first biweekly update, your fortnightly journey through our most important updates.

It's been an exhilarating 15 months since Entangle's inception! What was once regarded as an audacious and nearly unachievable vision has gradually transformed into a functional product. This accomplishment fills us with pride, especially when acknowledging the tireless efforts of our 16 full-time team members who are striving to bring this dream to fruition.

As we start to close in on launching our mainnet, we want to ensure our community has the full scope for everything we're working on.

If you don't have the time to be glued to your screen, these updates are for you.

Development

New website designs and frontend optimizations
Internal audit of smart contracts
Minor testnet bug fixes
Oracle Keeper Module improvements
Internal Alpha Testing of Blockchain
Preparation for Testnet V2

Marketing

Deep dive into how the Entangle Blockchain works: https://twitter.com/Entanglefi/status/1658206630524100618?s=20

Entangle partners with Curvance: https://twitter.com/Entanglefi/status/1658847286833586176?s=20

A deep dive thread from Fastlife: https://twitter.com/0xFastLife/status/1658853680420990979?s=20

How Entangle can supercharge your LSD's yield: https://twitter.com/Entanglefi/status/1659260668401311744?s=20

A deep dive thread from Crypto Koryo: https://twitter.com/CryptoKoryo/status/1660332916604387330?s=20

Thread on how Entangle's Validators work: https://twitter.com/Entanglefi/status/1660751322650492929

Example of how we remove siloed liquidity: https://twitter.com/Entanglefi/status/1661050385971175427?s=20

Entangle partners with Sei: https://twitter.com/Entanglefi/status/1661384740845281286?s=20

A deep dive thread from Alex Wacy: https://twitter.com/wacy_time1/status/1661726388410527744?s=20


Community

We recently held our first Discord community AMA and thoroughly enjoyed answering all your questions live. Given the enthusiastic response, we're absolutely planning to make this a recurring event. Don't worry if you can't join in real time - we'll record and upload the sessions for your convenience.

Additionally, we've started distributing whitelist access to our most engaged discord users, content creators, designers, and event participants.

The submission form for the whitelist is now permanently closed, and we're exclusively granting access to our most dedicated community members. We see this as a way to stimulate organic growth, and so far, the results have spoken for themselves.

The purpose of this whitelist access is to provide entry to our incentivized testnet. But rest assured, even if you don't secure a whitelist spot, you're still welcome to participate in our testnet. The only distinction is that you won't receive an allocation to the airdrop.

Don't worry, there's still plenty of time and opportunities to earn a whitelist spot before the conclusion of our testnet, join the discord to stay up to date on all the new ways to earn them.

Speaking of testnet, users with these current Metamask versions have problems with using Entangle Testnet:

- 10.30.1
- 10.30.2
- 10.30.3
- 10.30.4

Unfortunately this is a problem with Metamask, not us. You just need to downgrade your Metamask to the stable version of 10.29.0.

Our wonderful developers have created a guide teaching you how to do so:
https://www.notion.so/murphywl/Guide-How-to-downgrade-version-of-MM-stable-version-of-10-29-0-33990bf93c094cef9ee73bce54b34b4e?pvs=4