Entangle Elite ⭐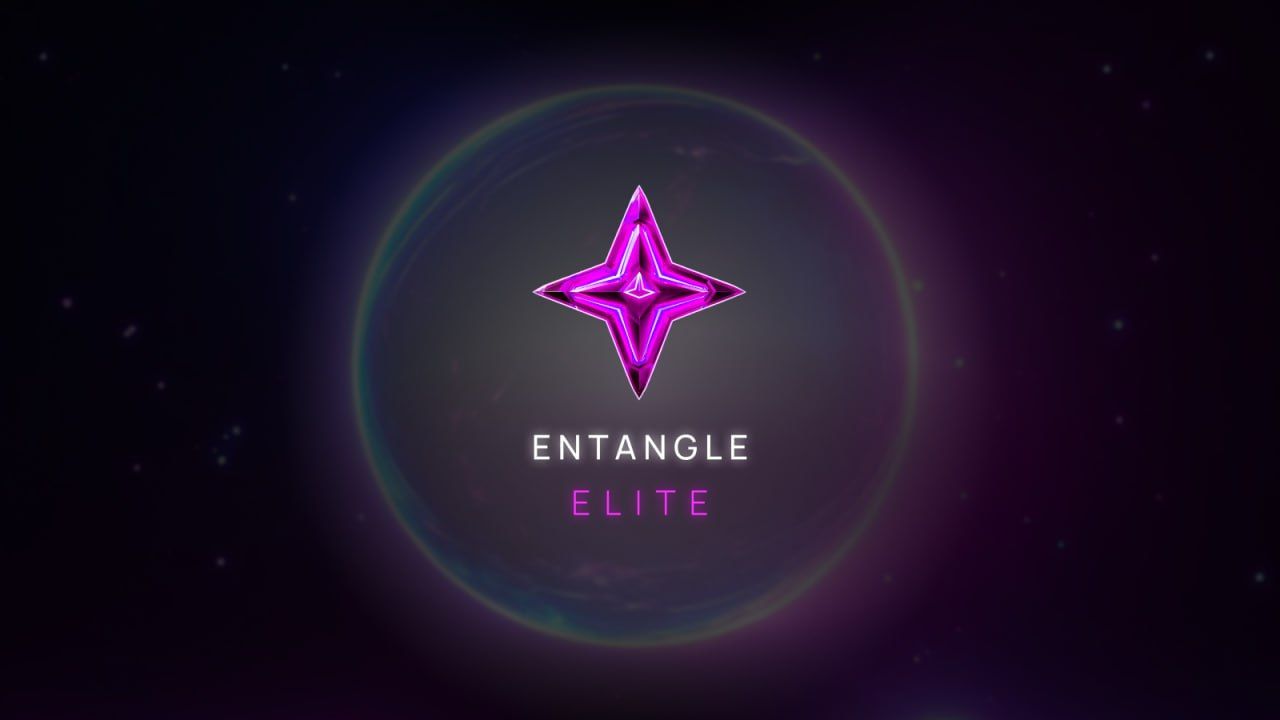 What is the Entangle Elite Program?
Entangle Elites are the strongest supporters of our community. Those who contribute the most to our ecosystem will now be rewarded with prizes which reflect their efforts. This program is designed to focus on team synergies and building our community into a visionary empire.
What are the rules for the Elite Program?
🟣 1 team = exactly 5 people, otherwise you can't participate.
🟣 Every team competes on a fortnightly basis, each fortnight represents one season.
🟣 Each team has to nominate a captain which is the first contact for the Entangle team, in case of any related ambassador question.
🟣 Each team will choose a name and logo, teams must not use the Entangle logo or direct name.
How do I find a team?
🟣 To find a team or recruit one as a captain you can enter the discord channel #find-elite.
🟣 Please share a short introduction about yourself as a team member or a captain looking to build a team.
How do I register?
Team Player Form
📝 Every player of the team needs to fill out the players form.
🔗 This form is linked in the documents which you can find in the discord channel #Elite. Please fill the form with your discord ID, social media account, team name and wallet address.
✅ After submitting the information you will receive an additional Elite role in discord. Please allow us some days for the adjustment of the roles.
Team Registration Form
The Team Captain needs to fill out the Team Registration Form. This form is linked in the #Elite channel. The following information are required:
Team Captain (discord ID)
Team Name
All Team Members (Discord ID)
Is There A Cap on Teams each Season?
❌ There is currently no cap.
Is there A Deadline to Join Each Season?
🏃‍♂️ Each competition runs exactly 14 days. As a result there are two Elite seasons each month.
📅 Each season will start on either the 1st of each month (e.g. 1/07/2023) or the 15th of each month (e.g. 15/07/2023).
⏰ Each team will have exactly 14 days to collaborate and submit their information for the season.
⏳ The final submission has to be done by the Team Captain before the 14th & 29th midnight UTC.
What if participating team members don't perform?
For this situation the team captain needs to contact the Entangle team where we will discuss the details and evaluate the issue. As we believe in qualified teamwork, we'll ensure if a member is not performing or putting in any effort, they won't get any rewards for the ongoing season.
How to compete after the registration process?
The Elite program includes four different pools where teams are competing against each other. The maximum possible points for each season and each team are limited to 500 points.
You can contribute in the pools:
Content (tweets, articles, videos, education) = 40% / 200 Points

Ecosystem/Testnet (introductions to communities/influencers/protocols and giving critical feedback/using our testnet) = 25% / 125 Points

Designs (Infograph's, animations, user journey for our product, creative) = 25% / 125 Points

Memes = 10% / 50 Points
1. Content (40% weighting, maximum 200 points per season)
Each team will create content related to Entangle which must be posted on a social media platform. Content can be on:
🐤 Twitter
🎥 Youtube
✍️ Medium
🟦 Linkedin
🕺 Tiktok
All content must be submitted via a google doc which has links to the teams posts. The total weight of this pool is 40% or 20 points. Quality is top priority.
2. Ecosystem/Testnet (25% weighting, maximum 125 points per season)
Our testnet is currently live and we're looking to have users provide critical feedback on the experience and show their usage. We're looking for users to demonstrate:
🧪 Completion of testnet
💬 Feedback for new pools to integrate
🌿 New ecosystems to integrate
🧑‍🌾 Different yield farming strategies (Lend/Borrow, Options, Gambling etc)
🤝 Introduce us to new protocols, communities or influencers
We are looking for detailed responses and high level introductions, please attach a google doc with all of your feedback and introductions made.
3. Designs (25% weighting, maximum 125 points per season)
Designs and branding are crucial to building and marketing a good product. We want to see the designs for the following categories:
🟣 Animations
🟣 Infograph's
🟣 User journeys for our product
🟣 Creative
🟣 Educational (courses, quizzes etc)
All designs need to be added to a google doc with links to the posts when submitting the form. We are not looking for just midjourney designs with our logo, we want to see some real effort put in by talented designers. Attention to detail is key.
4. Memes (10% weighting, maximum 50 points per season)**
All memes will need to be uploaded in a google doc with links to their posts. We're looking for quality over quantity and if your designs meet our expectations, we'll also post them on our main twitter account.
*Pools will change in weighting and category type as our seasons progress*
Guides for team submissions
These are the google doc guides for team captains to submit all content, ecosystem/testnet, designs and meme related links.
Content: https://docs.google.com/document/d/1sbVtU889yuul12M_YchqI1IHuWeiRLTIx13jG_fRqaE/edit?usp=sharing
Ecosystem/Testnet: https://docs.google.com/document/d/1KpT2UrpkOmoZJyBVdLmXgbw0Axz7XTjDKdlMFQq1w5E/edit?usp=sharing
Designs: https://docs.google.com/document/d/1Y7lHp55F7bbLp13GV0JmEkO6D0m7ARRScOSj0jumhVY/edit?usp=sharing
Memes: https://docs.google.com/document/d/10shXqkC6kcowgjSXozHAomx1Ga5j3lkdUq5cW7wWCYo/edit?usp=sharing
Evaluation of the team submissions
As described, teams need to submit their results by 29th and 14th midnight UTC of each month to participate. After the deadline and submission, our team will analyse all content and decide on the final winners.
The fortnightly results will be released shortly after the deadline ends. Each season will consist of an:
🥇 1st place
🥈 2nd place
🥉 3rd place
🤝 Participation
What are the prizes?
The following prizes are possible each fortnightly season:
🥇 1st place: $150 each team member (750$ each team), join one of our Discord community AMAs, airdrop whitelist, NFT whitelist, 1st place Discord role
🥈 2nd place: $100 each team member ( 500$ each team), airdrop whitelist, NFT whitelist, 2nd place Discord role
🥉 3rd place: $50 each team member (250$ each team), airdrop whitelist, NFT whitelist, 3rd place Discord role
🤝 Participation: Airdrop whitelists, NFT whitelist
Extra Rewards
Some community members create content which significantly stands out from others. When we see individual contributions which hit this, we'll be rewarding them with extra prizes.
🪙 Tokens
📄 Whitelists
🎓 Roles
🎟️ NFT access
🎙️ Winners to join community AMA
Question?
If you have specific question please tag our team members in the #entangle-elite chat please.
A New Beginning
This is a chance to become early bootstrappers for our ecosystem which is set to explode in the coming months. As we prepare to launch our mainnet, the crypto industry will soon realise our potential and you'll be among the first to benefit from it.
Stay Entangled!