Entangle Integrates With Scroll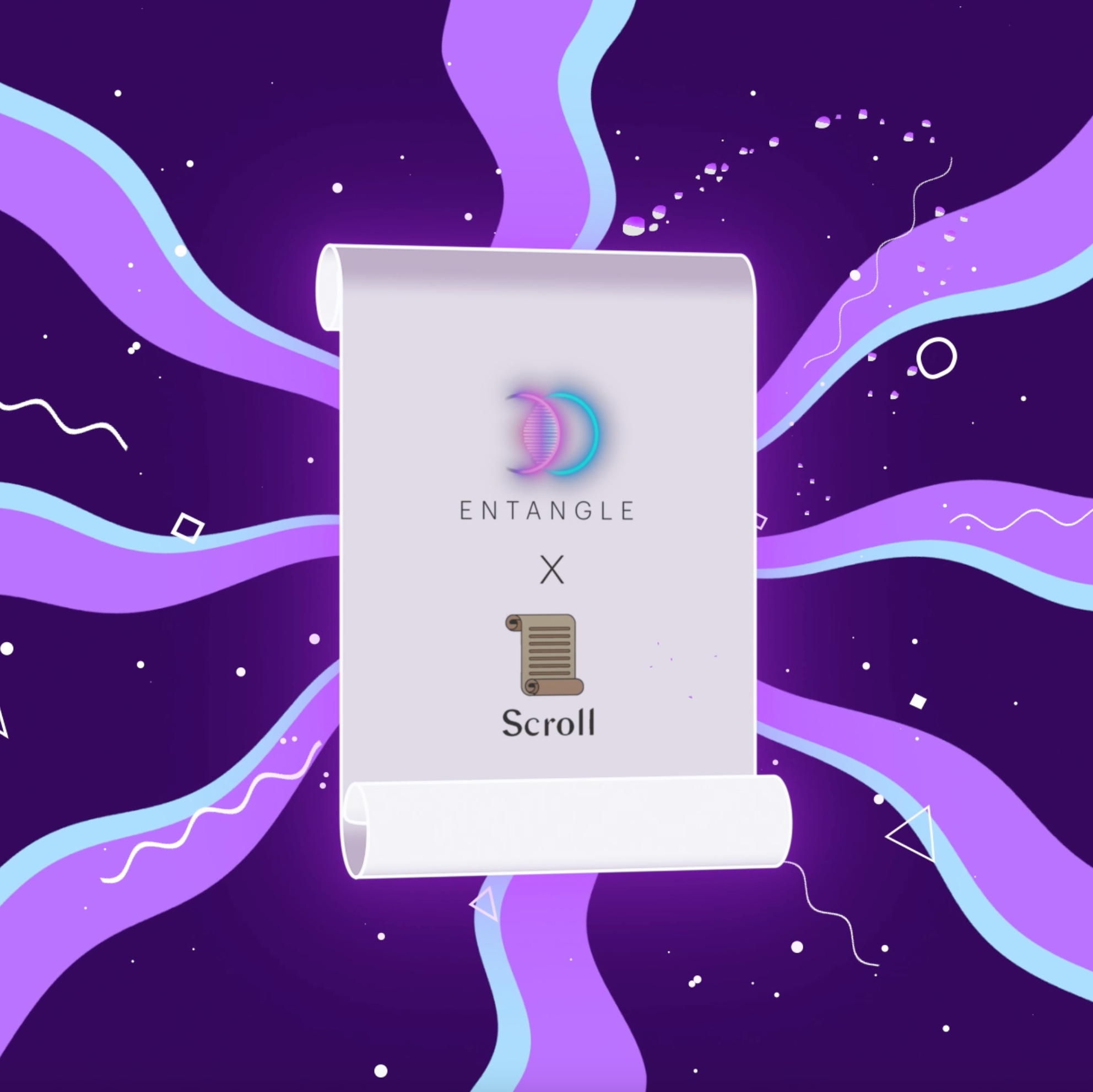 Stop Scrolling!

As we've just integrated with Scroll, the native zkEVM.
It would be surprising if you haven't heard their name already. With over 7M wallet addresses, 2.5M contracts deployed, and 250k+ daily average transactions, Scroll is becoming a web3 household name.
With the statistics to back their vision, it's why we're so excited to join forces with the Scroll ecosystem.
Bringing Back Compatibility & Scaling
We've all seen the problems that high transaction costs, slow speeds and limited scalability cause. Scroll's taking these key fundamentals into consideration when building their infrastructure.
Their zkEVM is a testament to the power of compatibility. It seamlessly integrates with Ethereum, enabling developers to deploy their Ethereum smart contracts on the Scroll Network without any modifications. This effortless transition not only simplifies the process for developers but also accelerates the adoption of Scroll through key ecosystem integrations like Entangle.
But what truly distinguishes Scroll's zkEVM is its scalability. Capable of eventually processing thousands of transactions per second, Scroll will become an ideal solution for applications requiring high throughput.
With ecosystems and security evolving, so too must the solutions they offer. Entangle's primary mission is to resolve web3 liquidity issues. Users should never be the ones bearing the costs of inefficient infrastructure. Our philosophy is dedicated to unlocking the utility and composability of assets in both intra-chain and cross-chain environments.
Powering The Users
We've seen the catastrophes centralised actors have caused; in recent months a flight to DEXs has accelerated as users realize the importance for privacy and security of their assets. Decentralized trading is set to expand and our mission is to support them with the lifeblood of liquidity and utility for assets.
Scroll is one of the pioneers building an open-source, EVM-equivalent zkEVM, in collaboration with the Ethereum Foundation's Privacy & Scaling Explorations group. Scroll aims for compatibility to integrate with any Ethereum app—be it NFT marketplaces, decentralised lending platforms, blockchain-based gaming apps, all able to port their code over to the cost-efficient rollup network.
With over 180+ applications already built on top of Scroll, it's clear they're finding themselves at home within crypto's ever evolving ecosystem. Entangle thrives in these expanding environments as we bring a new unseen solution to the utility of assets. We couldn't be more excited to go forth with our future endeavours alongside Scroll.
About Scroll
Scroll is an EVM-equivalent ZK-Rollup built upon Ethereum, designed for scaling without sacrificing security, developer, or user experience. It's bytecode-compatible, meaning the UX & DevX is nearly identical to Ethereum; it's community-first and built in collaboration with the Ethereum Foundation; and its team is on the cutting edge of ZK research and decentralization. Scroll is launching on mainnet in Q3 2023.
About Entangle
A liquidity-focused sub-layer powering capital efficiency and liquidity optimisation. Entangle allows the creation of composable instruments on secure and scalable cross-chain applications creating a fluid and united Defi landscape.